NEXT GENERATION FUEL OPTIMISATION FOR SHIPS

The gearbox OptixDrive lower fuel consumption with up to 25% for ships with shaft generator - Enabling main engines to run on variable (optimal) rpm instead of fixed rpm
SAVE FUEL

ELIMINATE BLACKOUTS

LOWER EMISSIONS
Tests show that OptixDrive can lower fuel consumption with as much as 25% (700 ton fuel per ship and year) through enabling the main engine to run on "combination mode"

95% of all blackouts onboard will be eliminated since OptixDrive gives you the buffer time needed to start your emergency generator before the ship goes pitch black

In average OptixDrive is estimated to save 500 ton fuel per ship and year, meaning lowering emissions with as much as 1500 ton

CO

2
OPTIXDRIVE MAKES IT POSSIBLE

  
   

How does it work?
Transmission is installed between the Power Take Out (PTO) and the shaft generator
Gearbox uses hydraulic power to compensate for reduced primary speed and adjusts the secondary speed to the generator's prefered rpm
Your shaft generator can be connected from idling up to maximum rpm - saving hundreds of tons of fuel annually & lower emissions of 

CO

2

, NO

x

 & SO

x
95% of all "blackouts" onboard are eliminated through the 

rpm compensation continuing below 

idling rpm - resulting in the buffert time needed for starting auxiliary generators taking over electrical power production onboard

Optixdrive is provided in different models (e.g. 1,0 / 1,2 / 1,5) with a 

power range up to 3,5MW

Installation is adaptive and can fit your specific vessel with no docking or "off hire" needed during the job that takes approximately 24h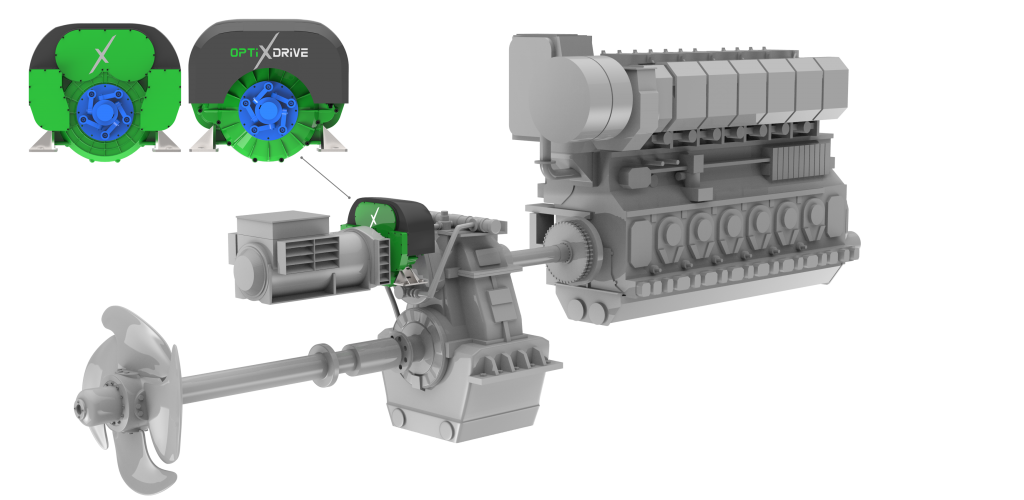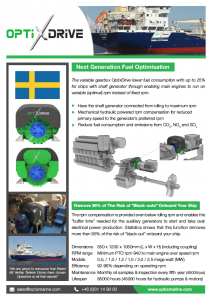 WE BELIEVE IN TAKING CARE OF THE ENVIRONMENT
Optixdrive is estimated to save as much as 1 500 tons of 

CO

2 per ship & year
To give an overview of the potential environmental impact, imagine the effect of the world wide fleet of 7 000 ships using shaft generators:
1 500 ton less 

CO

2 per year x 7 000 ships = 10 500 000 ton 

CO

2
We believe that Optixdrive has the possibility to have a serious positive effect on the shipping industry's total emission of CO2, NOx & SOx.
Swedish company specialised in marine powertrain efficiency
The OptixMarine Team belive that the shipping industry has a sustainable furutre and together we have more than 25 years experience in marine technology

OptixMarine's goal is to provide the best plattform for saving the environment, reducing annual running costs & increasing safety onb

oard

Long term, we want to use this technology to help our customers to reduce CO2 emissions with 375 thousands tons annually by the end of 2019
We are proud to be backed by The Swedish Innovation Agency VINNOVA along with The European Commission that has chosen OptixMarine AB for the SME Instrument Phase 1 program, or as they refer to it: "Champions league among smaller companies based on highest growth potential, a program that give them every chance to succeed."
OptixMarine welcomes you onboard
We have since the beginning of the year expanded Team OptixMarine and been working intensely with preparing the installation onboard Astoria. Along the way several design improvements have been done, for enabling even higher efficiency at the main engines optimal rpm. Production has started and installation is planned during Q2 2017.
We have received the information that OptixDrive has been shortlisted for The Green Ship Technology Award 2016 and the winner will be announced at the price ceremony 16 March at Admiral Hotel in Copenhagen.
The European Commission has chosen OptixDrive for their SME Instrument as one of the breakthrough innovations with a promising potential to contribute to EU's environmental program "Horizon 2020", helping the global shipping industry with lowering their fuel consumption and environmental impact. Together we believe that the shipping industry has a sustainable future, you are welcome to join us.
2016 

January -

 Jakob Johansson joins Team OptixMarine
We are very happy to have recruited Jakob Johansson, product development specialist with hands-on experience from developing front end technology within the Norwegian offshore industry, that will take lead on OptixDrive's roadmap.
2015 December - Sweden's Innovation Agency VINNOVA Invests in Optixmarine AB
We are glad to announce that VINNOVA has decided to invest in OptixMarine AB, supporting the implementation of OptixDrive on ships world wide.
2015 November - OptixD

rive is Now Ready for Sale in

The Range 1,0-1,5 MW
Other models, e.g. the 3,5 MW version, will be ready for deliver during 2017. Contact us if you would like a template for calculating your ROI.
Our CTO Torbjörn Lundh proudly received the award for Innovation of The Year by Göteborgs Uppfinnarförening during a ceremony held at Chalmers Lindholmen in Gothenburg, Sweden. We are very grateful for this award and would like to thank everyone that has been working together for arranging the ceremony.
2015 September - OptixMarine at Donsö Shipping Meet 1-2 September 2015
Donsö Shipping Meet 2015 is now over and together with almost 1150 participants we are very pleased with the prosperous planning of the convention. Many contacts have been made and a great interest have been shown for OptixDrive. All eyes are, from now and forward, pointing towards the upcoming installation onboard Veritas Astoria (AB veritas tankers).
2015 August - OptixMarine Welcomes The Veritas Tankers Fleet to The Optixdrive Family
We are proud to announce that Rederi AB Veritas Tankers Donsö have chosen OptixDrive on all their vessels, installations is planned for 2017.
CALL US +46 (0)31 14 90 00 SEND MAIL OptixMarine AB, Kullebacken 8, 456 55 Bohus Malmön VISIT US AT LINDHOLMEN SCIENCE PARK OR E-MAIL