NEXT GENERATION FUEL OPTIMISATION FOR SHIPS
The gearbox OptixDrive lower fuel consumption with up to 25% for ships with shaft generator – enabling main engines to run on variable (optimal) rpm instead of fixed rpm.
OPTIXDRIVE MAKES IT POSSIBLE
How does it work?
Transmission is installed between the Power Take Out (PTO) and the shaft generator.

Gearbox uses hydraulic power to compensate for reduced primary speed and adjusts the secondary speed to the generator's prefered rpm.

Your shaft generator can be connected from idling up to maximum rpm – saving hundreds of tons of fuel annually & lower emissions of CO

2

, NO

x

 & SO

x.

95% of all "blackouts" onboard are eliminated through the rpm compensation continuing below idling rpm – resulting in the buffert time needed for starting auxiliary generators taking over electrical power production onboard.

Optixdrive is provided in different models (e.g. 1,0 / 1,2 / 1,5) with a power range up to 3,5MW.

Installation is adaptive and can fit your specific vessel with no docking or "off hire" needed during the job that takes approximately 24h.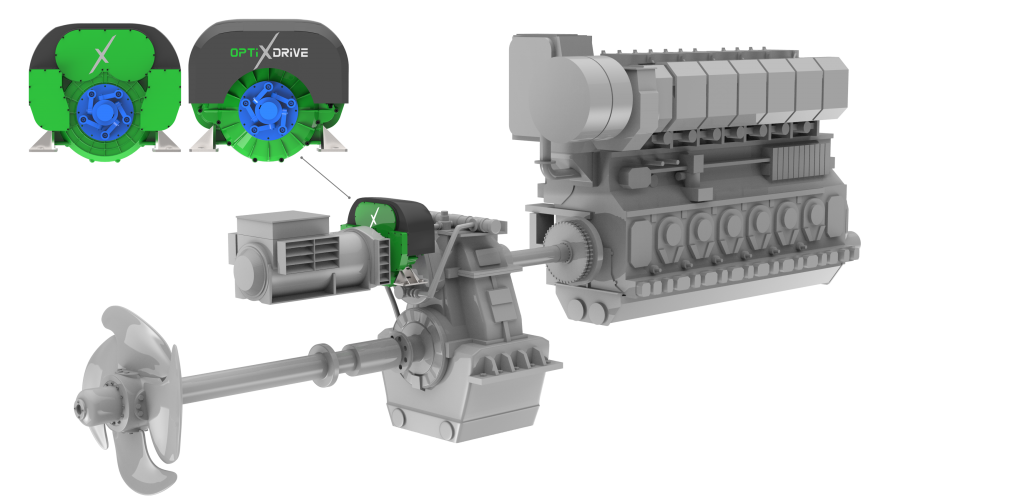 WE BELIEVE IN TAKING CARE OF THE ENVIRONMENT
Optixdrive is estimated to save as much as 1 500 tons of CO2 per ship & year
To give an overview of the potential environmental impact, imagine the effect of the world wide fleet of 7 000 ships using shaft generators:
1 500 ton less CO2per year x 7 000 ships = 10 500 000 ton CO2
We believe that Optixdrive has the possibility to have a serious positive effect on the shipping industry's total emission of CO2, NOx & SOx.